Read me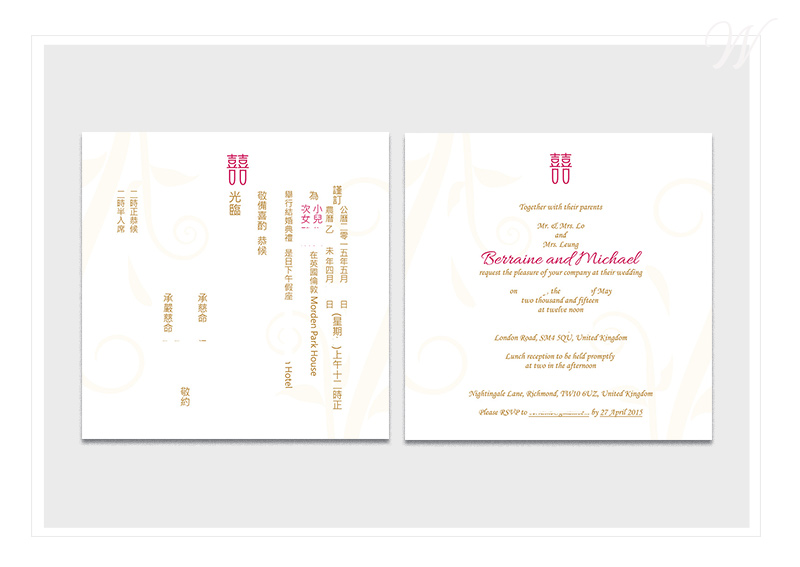 Customized wedding invitation order transaction process:

Invitation card design is personalized - from wording to arrangement, it may take 1 - 2 working days for the first draft.
Standard service for design and delivery - 1 month turnaround time
Super Rush pick and print late minute printing** - 4 - 5 business days turnaround time - +HKD300
All the amendment details will send by writing.
For the personality favors invitations design draft, we offer 10 times listed-items free design revisions(you can list out as much as you can in one revising list), with the options of additional proofs for HKD10 each for one sections/parts change. Your appreciation encourages us to be the best.
Hand-made invitation:
A Hhand-made invitation can always come with different colors of matching ribbons, stone, chops, sticking for extra materials or packaging etc, we need time to get it ready, we would say it would take 3 - 4 weeks for processing.
All the size of the cards, envelopes, and gift boxes if resulted 0.1cm - 0.2cm different is considered as normal.
Wooden:

All our wooden items are made by natural wood and bamboo, as its all natural, so the pattern(growth rings) may not always the same, we polish, we handle with care, but still wood may still have its nature rift.

Every order will receive our draft to confirm the wording and font, once the confirmation email received from the client, no change for any wording and font.
Ribbons:

Please refer to the color matching list for the color selection. Please noted that chromatic aberration would happen sometimes.
Orders:

Minimum order for the integral number only. (100pcs, 200pcs, 300pcs etc) All the size of the cards, envelopes, and gift boxes if resulted 0.1cm - 0.2cm different is considered as normal.
Time:

Please save minimum 1 month for us to design and process your cards. Please know that we truly believe that you need everything goes perfectly for your very special day, so we need time for modification. We will decide if we can accept this order if your order is less than 20 days. (Print out process just only on Monday - Friday, not including Public holiday and Saturday and Sunday)
It is the responsibility of clients to keep their mailbox up-date during the transaction process, all communication and revised of the cards will send to the clients' email address on record. MYLove Design HK will not be responsible for any delayed, misdirected or lost mail as we are always waiting for your confirmation and finalization for the cards, even though it may delay the production process.
Our delivery starts the day after you confirmed your order and ready to print.
**Super Rush service only apply for the flat card printing invitation and print on 250gsm Art Whitepaper.
Please note: Delivery times are based on business days only.
Currency exchange:
USD1= HKD7.8
Terms and conditions:
Exchange and refund policy:

Once the payment is confirmed, we assumed you agreed with the amount, details and some of the product of the transaction.
No change, no refund. Please be cautious during the "finalization" stage. MYLove Design HK will not be responsible for all the layout error (such as a misspelling) after the 'finalization' process besides the technologic problem.
All the size of the cards, envelopes, and gift boxes if resulted 0.1cm - 0.2cm different is considered as normal.
All printing of color does exist color variance to certain the extent. Under reasonable color variance, the customer should not use this as reason and ask for any reprints, discount or refund. e-print will not accept those requests. The Company has its own color management to ensure that all printing colors are within reasonable levels.
Payment options:
We accept bank transfer (included Faster Payment System FPS and payme) and Paypal. Please know that 3% extra charge will be applied on top for the total charge.
Once the transaction was completed, please email us again so we will send out the product accordingly.
Gift coupons/special offers:
The entire gift coupon can apply on the custom cards design orders only.
Coupons are advertised with a specific discount amount of the product price only. Coupons are not applicable towards shipping costs.
Only one coupon or discount can be used per transaction.
All the monthly invitation special offers must come with the min. order of the invitation, generally 100pcs up.
General conditions:
MYLove Design HK reserves the right to terminate or change the gift coupon benefits without prior notice.
Due to the currency fluctuation of papers and materials, MYLove Design HK reserves the right to monthly update the price anytime before of the agreement.
The manuscript is owned by MYLove Design HK, artwork file will not send/copy/sell to the customer. MYLove Design HK reserved the right to use the clients' design for the marketing promotion proposes. If you do not want your image used for the promotion, please notice in writing to us.
Should MYLove Design HK terms and conditions collaterals be available in other languages, the Chinese language version shall be the only point of reference if any discrepancy arises.
The Singular shall include the plural and vice versa and words denoting one gender includes all gender.
MYLove Design HK reserves the right to interpret, apply and communicate the Terms and Conditions as posted on our website. Prices and offers are subject to change without notice. All decisions made by MYLove Design HK shall be final and conclusive in each case.
We value for YOUR business, for all enquiry, please do not hesitate to contact us by postmaster@mylovehk.com, we will reply us within 24 hrs during the business hours - Monday to Friday from 10:00 - 19:00. (UTC+08:00)