Custom Painting
Why a painting is the perfect gift?

It's the appreciation of human artistry, and painting will last lifelong. The same could be said of all art. Painting is priceless treasures whose value does not diminish with the passing of time. Art is Treasure. Gift that hold personal value are even more special than others. This works well when you want to gift something to someone you care deeply for. This goes a long way in expressing the thought and effort you put in to make your loved feel special.
An unique gift from beloved friends, painting is infinitely precious.
Every Love Story is beautiful art. Couples, Mom daughter, Dad daughter, family, and all.
Design idea and feature:
Custom hand drawn couple portrait
watercolor style, illustrated etc
Wedding invitation / Birthday card / family Painting
Digital output
Wedding, Newlyweds, bridal shower, baby, birthday, anniversary gift, Mother's day, Father's day, customize prints
Digital output in A5 - A4:
Above painting is A4 size, original color wooden frame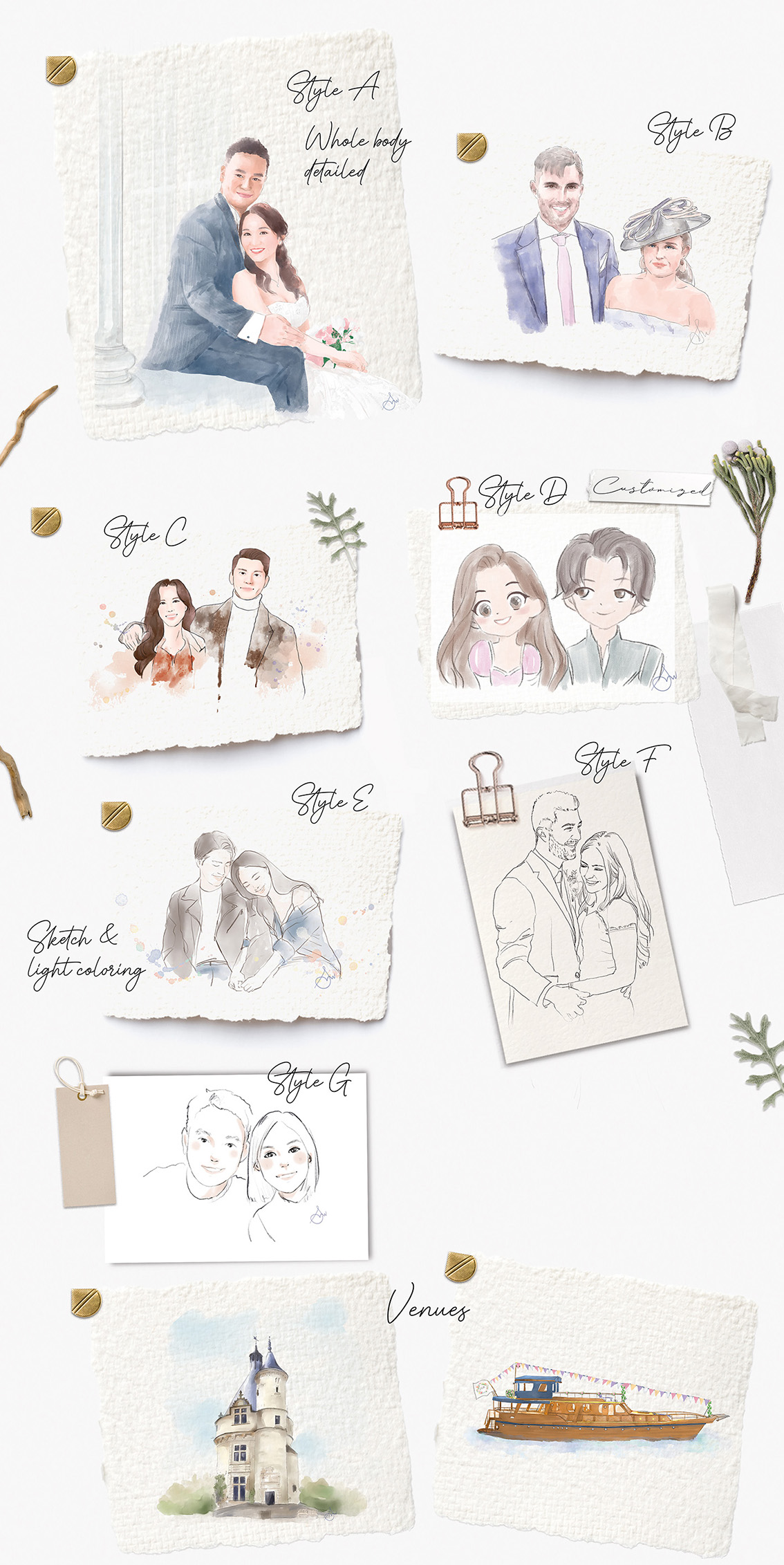 List price for digital version only
Couple portrait drawing printing + wooden frame:
style A - whole body - Digital only - HKD900
style B- half body - Digital only - HKD800
style C - G - Outlines - Digital only - HKD600
add-on: 1 pet HKD100 each
add-on: full background +HKD200
Family package:
add-on: 1 person + HKD150 half body, +HKD200 whole body
Optional:
A5 - A4 Wooden frame and printing:
+HKD150
Check for other size
Canvas prints:
20 x 25cm, 21 x 30cm, 30 x 30cm, 30 x 40cm, 40 x 40cm, 35 x 35cm, 25 x 25cm, 25 x 30cm, 25 x 35cm, 25 x 40cm
size from 20 x 25cm, up to 40 x 40cm, check with the agent for other size
Wooden frame:
Size from 5" - 12.7 x 12.7cm, 6" - 0.2 x 15.2cm, 7" - 12.7 x 17.8cm, 8" - 15.2 x 20.3cm, 10" - 20.3 x 25.3cm, A4 - 21 x 29.7cm, 12" - 20.3 x 30.3cm, A3 - 29.7 x 42cm
Add-on: painting stand
Mother's gift, Father's gift, family photos
The said quotation included 1 pdf file, 1 psd and 1 jpg for portrait (in the A5 - A4 size)
Contact us for the painting frame color options
Production lead time:
approx. 15-20 working days
Quantity:
Above quotation for 1 painting + wooden frame, please drop us a line if you have other quantity.
Wooden frame - selections of frame design, color and size available
Remarks:
We require high quality images which is included the proper lighting etc so we can see your face properly.

All price above is included the cost of printing, design and production.
Appreciation is a great way to recognize the hard work and efforts that we had done for you, minimum charge of design fee apply in above quotation.
Please note that there may be slight color differences between the sample colors and your final print due to varying screen settings and color presets.